Easychess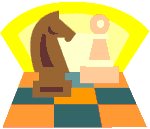 The Road to Chess Improvement
Introduction
Not every chess player can achieve master strength, but all chess players can improve. With this certain knowledge, we have created a website to help you do just that. We have focussed on 3 simple areas which we believe will yeild dividends 1. Daily Prize Chess Problem, 2. Weekly Multi-Choice Quiz, 3. Monthly Classic Game Test - We also feature dvds and books etc from our partner site the the london Chess Center shop. you will find these around the site and on our chess goods page.
"
Instead
we have focussed on
3 simple areas
which we believe
will yeild
dividends

"
In the 21st century, many chess players have become totally immersed in the study of openings, endlessly processing database information on their laptop computers. Even with limitless time, we would doubt that this is the best way for most chess players to develop their potential. But let's face it, most of us do not have the time or resources which are available to the professional.
Instead, we have focussed on three simple areas which, we believe, will yield dividends.
In one part, we look at tactics. This website will provide a daily problem which will test and improve your flair for combinations.
Another part will consist of multiple choice questions which will test your knowledge of various aspects of the game of chess. We will provide a new multiple choice problem each week.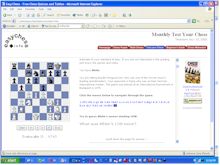 Last, and perhaps most importantly, we will invite you to follow a classic game from the past, and guess the moves of one of the masters. You will be allocated points according to how successful you are. When you have completed the test, you will be able to calculate your score and make an estimate of your growing strength. This 'Test Your Chess' section will appear monthly.
Click on the links to take you to the relevant section.
NEW:
Alekhine Alert! – A Repertoire for Black against 1 e4 by Timothy Taylor,
Everyman Chess 2010, Figurine Algebraic Notation, Paperback, 285pp. £16.99.
By Stephen Berry
First Class Book on the Nimzo-Indian
By Stephen Berry
The Nimzo-Indian: Move by Move (Everyman Chess) by John Emms, 368 pp. £19.99.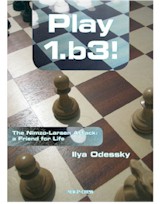 By Stephen Berry
Play 1.b3! The Nimzo-Larsen Attack: A Friend for Life (New in Chess) by Ilya Odessky
ABC of Alekhine by Andrew Martin (Fritztrainer Opening – by Chessbase)
The Fritztrainer Opening (also known as the Fritz Media System) series seeks to combine the benefits of a live lecture by a chess master and a database which may be used with a chess engine.
"Are you tired of constantly following the same old opening moves? Fed up with always having to keep up with modern chess theory? Or perhaps you simply wish to try something new and exciting, but cannot decide between the numerous choices available? We have the answer!"
" Dangerous Weapons is a brand-new series of opening books which supply the reader with an abundance of hard-hitting ideas to revitalize his or her opening repertoire. Many of the carefully chosen weapons are innovative, visually shocking, incredibly tricky, or have been unfairly discarded; they are guaranteed to throw even your most experienced opponent off balance."
Wow! I decided to check the truth of the above claims by buying and critically reading the book on the Open Games, Dangerous Weapons 1 e4 e5 . Are the bold claims of the series justified? Read Review
Bobby fischer books
fischer books

Games collections
Games collections
more books added to our games collections

Easychess pdf Article



Free Download - Capa.pdf
Capablanca and his Analysts by Stephen Berry
Did Capablanca's personality sway judgments on his play?
To read this file you need a pdf reader - . For example you can download the excellent Foxit reader free.
Learn Chess
DVD for TV

Chess: Ready, Steady, Go (DVD) - Andrew Martin £14.99

Approximate ruinning time: 2 hours 15 minutes
A comprehensive and entertaining approach for learning the game of chess. In less than 3 hours, International Master Andrew martin shows you all you need to become a proficient player. You will learn how to play chess quickly and efficiently. Note: This product is not regioned. So can be played by all DVD players worldwide
Buy from: http://www.chess.co.uk/