Chess Games Collections and Tournament Reviews.

Easychess pdf Article



Free Download - Capa.pdf
Capablanca and his Analysts by Stephen Berry
Did Capablanca's personality sway judgments on his play?
To read this file you need a pdf reader - . For example you can download the excellent Foxit reader free.
J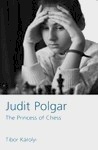 udit Polgar
The Princess of Chess
by Tibor Károlyi (Batsford Chess 2004) £15.99
This is one of the most interesting chess books that I have read in a long time. It is the story of rise of Judit Polgar, the best female chess player ever. But it is not only this. Károlyi, a strong Hungarian player and chess trainer, has a close knowledge of the Polgar clan. He has used it to provide a fascinating portrayal of the entire Polgar phenomenon.

Read Full Review ...

Kasparov's Fighting Chess 1999-2005
Tibor Károlyi and Nick Aplin This book deals with games played right up to the eve of Kasparov's retirement.
We begin with Wkjk ann Zee 1999 and a tournament that Kasparov had never competed in it before.... he had had a relatively (ie super to you and me!) poor 1998 ... But this was a tournament that he won in style.
Read Full Review ...
My Great Predecessors:
by Garry Kasparov, Everyman Chess, London 2003-6. Five volumes at £25.00 each.
Volume 1 deals with Steinitz, Lasker, Capablanca and Alekhine along with important contemporaries such as Tarrasch and Rubinstein. Volume 5 reaches Korchnoy and Karpov. The five volumes therefore cover all the World Champions from Steinitz (1885-1894) to Karpov (1975-1985) and the other major figures of chess during those 100 years.
Read Full Review ...
My Best Games:
by Victor Korchnoy, Edition Olms, Zurich 2001. Two volumes at £19.99 each.
For over 50 years, Victor Korchnoi has been one of the world's leading players, and at the age of 76 is still going strong. These two volumes of his best games were eagerly awaited. One book contains a selection of games with White, the other volume his games with Black.
Read Full Review ...

Who Was The Strongest? - Keene, Divinsky & Sonas

Price:£25.00 All chess enthusiasts are fascinated by the question of who is the strongest of all time? Here two respected chess statisticians and a noted chess grandmaster come together to provide an answer, each one attacking the problem from his own perspective, but each one also coming up with the same unavoidable response! One can argue endlessly about preferences, but when such preferences (backed up by the informed opinion of readers of The Times, as well as exhaustive results between the elite and a close examination of tournament and match charts ) all point in the same direction, then it is difficult to dispute the outcome. In the course of this fascinating and scholarly journey, the reader encounters all the greats of chess, from Staunton via Steinitz to Lasker, Capablanca, Alekhine, Botvinnik, Fischer, Karpov and Kasparov. Each contender is provided with a thumbnail cv and extracts from their most significant encounters.
Khalifman: Life and Games - Nesis

Price:£16.99 The 1999 World Championship in Las Vegas produced a surprise winner - after a month-long battle, the Russian grandmaster Alexander Khalifman emerged from this gruelling knock-out event to become the 14th FIDE World Champion. Alexander Khalifman has been competing in the higher echelons of world chess for many years. He is a player with a broad opening repertoire and a distinctive style, one of his favourite stratagems being the sacrifice of material for long-term positional compensation. A former European Junior Champion and a winner of numerous Russian and international tournaments, he has recently founded a grandmaster chess school in his native St. Petersburg.


Max Euwe Biography - Munninghoff

Price:£18.99 This is a slightly expanded edition of a book which originally appeared in Dutch in 1976 and which contains an extensive biography of the man who was, in his time, World Champion, President of FIDE and a prolific author as well as being a full-time university lecturer. By all accounts Euwe was a modest, fair-minded and popular champion in a world of gigantic egos. He was also the methodical, driving force behind the creation of FIDE and had to exercise all his diplomatic skills when, as president, he was called upon to save the 1972 Fischer-Spassky match. This detailed biography does full justice to Dr. Euwe's chess career and an additional chapter has been added to conclude the story up to Euwe's death in 1981. There are 116 annotated games of which 50 contain original analysis by Euwe. "Without this book your chess library is not worth it's name." - Hans Ree

Why Lasker Matters - Soltis

Price:£9.00 was £15.99 - Save 44%Emmanuel Lasker was the longest-reigning world champion (1894-1921) and remained one of the world's top 10 players for nearly four decades. He competed against top players such as Capablanca, Rubinstein and Alekhine at the height of their game, and was consistently successful, yet almost no one studies his games today. Lasker is often overlooked by the modern chess player, and the secrets of his success remain a mystery. Chess journalist Andy Soltis reveals for the first time the winning formula behind Lasker's phenomenal achievements. With over 100 annotated games, Soltis analyses the tricks, traps and techniques behind the winning moves, and makes Lasker's methods accessible to today's players.
Bobby Fischer : Profile of a Prodigy - Brady

Price:£7.50
RRP £10.95 - Save 30%
by Frank Brady. 435pp. Descriptive Notation. (Dover 1973). The most famous biographical work on the American world champion. Bobby's career in chess, from his beginning as a child prodigy through his winning the world title is described in the first 268 pages. This is followed by almost another 170 pages containing 90 annotated games (in descriptive notation). Considered by most to be the definitive biographical work on Fischer.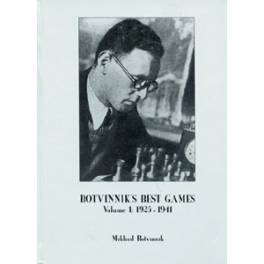 Botvinnik's Best Games I HB 1925-42 - Botvinnik

Price:£29.99

Mikhail Botvinnik was the greatest chess thinker of the 20th century. He was also a very strong player who held the World Championship (with brief interruptions) from 1948-1963. In matches he held or recovered the world title against Bronstein, Smyslov and Tal. In individual games he beat every World Champion from Capablanca to Spassky. His ideas on the openings revolutionised White's play against the Nimzo and Kings Indian. With Black he developed the French Defence and Sicilian against the kings pawn and the Gruenfeld and Semi-Slav against 1 d4. Above all, he brought the Caro-Kann into the mainstream of chess openings by using it to defeat Smyslov and Tal in matches. Oh, I almost forgot, he was also the first leading master to regularly play the Pirc Defence with Black.Do you want to be a serious chess player? If you answer 'yes' to this question, these three volumes are a must for you.
Botvinnik's Best Games II HB 1943-56 - Botvinnik
Price:£29.99

Botvinnik's Best Games III HB 1957-70 - Botvinnik
Price:£29.99



Botvinnik-Bronstein 1951 - Botvinnik

Price:£12.99 Three years after winning the world championship, Mikhail Botvinnik had to defend his title against the challenge of David Bronstein. Though out of practice and largely outplayed by his brilliant young opponent, Botvinnik nevertheless demonstrated his fighting qualities, levelling the scores in the penultimate game and thereby retaining his title. All 24 games of the match are deeply annotated.This is Botvinnik's account of the first defence of his title, translated from Russian. The young David Bronstein played daring, exciting chess and he gave the world champion quite a fight. The controversial end of the match has led many to think that the Soviet authorities put considerable pressure on Bronstein not to win. Special supplementary sections and a preface by Vladimir Kramnik rounds off this book nicely.

Botvinnik-Tal 1961 - Botvinnik

Price:£12.99 When Mikhail Botvinnik lost the world championship in 1960 to the dazzling attacking player from Riga, Mikhail Tal, there seemed little chance of him regaining his title. Yet in the return match a year later, with a surprising demonstration of aggressive chess, Botvinnik completely outplayed his young opponent and ran out the easy winner. All 21 games of the match are deeply annotated.Additional sections include excerpts from Botvinnik's opening notebooks and a preface by Vladimir Kramnik.

Botvinnik's Secret Games - Timman

Price:£16.95 Mikhail Botvinnik was the ultimate boy scout of chess - always prepared! Indeed, his advance preparation for his key matches were feared by the greatest. It even involved the radio blaring while he was playing training games as well as having nicotine-puffing opponents blow smoke in his eyes in order to acclimatise himself to the real thing. Botvinnik's training games were a well guarded secret only shared by a few trusty colleagues, such as the Grandmasters Ragozin, Averbakh and Furman. The Soviet state was a monument to paranoia at the best of times, but suspicion multiplied when world titles hinged on secrecy, and these games have lain hidden for decades after they were played. Botvinnik was World Champion three times, from 1948-1957, 1958 -1960 and 1961 -1963. His final championship victory against Tal in the 1961 revenge match counts as one of the highest scoring rating performances in the history of chess. It was based on the most meticulous preparation, not least in the psychological sphere of seeking to find and play positions which were not to Tal's taste.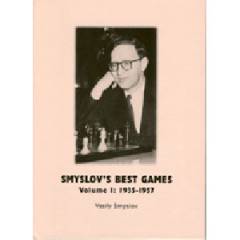 Smyslov's Best Games Vol 1 - Smyslov

Price:£24.95

The games and results in this volume have been bettered by very few in the history of competitive chess and it is particularly instructive to hear Smyslov's own voice guiding the reader. The impeccable translation is by Russian expert Peter Clarke, himself author of volumes on Tal and Petrosian. Originally published as My Best Games of Chess - 1935-1957. Now published with corrections. Vassily Smyslov was the victor of the two World Championship Candidates Tournaments of 1953 and 1956, and went on to capture the World Title from Botvinnik in 1957
Smyslov's Best Games Vol 2 - Smyslov
Price:£24.95

Smyslov launched his first bid for the supreme title in the 1948 match tournament - coming second to Botvinnik. Eventually, after two victories in Candidates contests and a drawn match with Botvinnik, Smyslov overcame his great and perennial rival to become World Champion in 1957 while still in his mid 30's. Smyslov's games are complex. Outwardly a serene strategist and undoubtedly a genius of the endgame, closer examination reveals Smyslov to be a fierce seeker after the initiative, especially with black.A genius of practical strategy and filigree endgame play, Smyslov was also a miracle of chess board longevity, reaching the final of the 1984 World Title Candidates qualifier against Kasparov at the age of 63 - exactly three times the age of his opponent!

Spassky: Master of Initiative - Raetsky & Chetverik

Price:£12.99 Boris Spassky is a true chess legend, a World Champion who, thanks to his monumental battles with Bobby Fischer, raised the popularity of the game to a level that had never been seen before. Although at the height of his powers many saw Spassky as a complete and universal player, adept at outplaying his opponents in any type of position, it is no secret that from an early age he thrived on sharp, attacking play. He was a superb practical player, and with the initiative at his hands he could conjure up wonderful combinations and deadly attacks.In Boris Spassky Master of Initiative, Alexander Raetsky and Maxim Chetverik look back over Spassky's long and distinguished career to examine how he defeated his long-time adversaries, carefully highlighting his most colourful and celebrated encounters over the chessboard. A deep study of his style and games will entertain and inspire any true chess fan.