Bobby Fischer Books.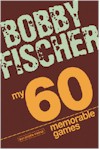 My 60 Memorable Games - Bobby Fischer PRE-ORDER NOW! £12.99
My 60 Memorable Games was written over a period of several years and contains Fischer's objective, honest and self-critical annotations to games that he had won, drawn and even lost from 1957 to 1967 – but from which he had also learned valuable lessons. In fact, reading Fischer's intensely personal commentaries is like going back in time, watching live coverage of his over-the-board battles with the chess greats of his day. Soon he would become the greatest of them all.

Price: £12.99 - Buy from: http://www.chess.co.uk/

Bobby Fischer : His Approach to Chess - Agur

Price:£14.99
While not a grandmaster himself, Elie Agur has obviously made a deep study of Bobby Fischer's games. In this fascinating and highly instructive book, he analyses the elements of Fischer's style with reference to specific games. As Agur says, ""Besides being a study on Fischer, it is a treatise on the middlegame at large"". Over 300 diagram positions are taken apart, with a page or more sometimes devoted to a single move, its implications and alternatives. Topics include pawn structure, piece placement, material, timing, strategy (e.g. plans, seizing the initiative, liquidation, and playing for space), clarity, straightforwardness, alertness, reducing the opponent's options, playing to win, practical chances, tactics, technical aspects and overall vision. Fischer's weaknesses are not allowed to pass unmentioned, either. Agur devotes whole chapters to superficiality, misplaying won positions, and typical blunders and oversights. You can learn all sorts of fascinating details about the great man and his opponents. For instance, Fischer's decision to play Alekhine's Defence against Ciocaltea in the 1965 Capablanca Memorial tournament amazed fans. Agur explains what really happened. Fischer was participating by cable, as the State Department denied him a visa to go to Fidel Castro's Cuba in the aftermath of the 1962 missile crisis. Ciocaltea's first move was received as 1. d4 and so played on the board, and Fischer replied 1...Nf6 as usual. Only when the second move, 2. e5 came through was the mistake discovered. Characteristically, Fischer refused to change his first move and achieved a hard-fought draw after a long struggle against an opponent he would often have expected to beat.

Bobby Fischer : Profile of a Prodigy - Brady

Price:£7.50
RRP £10.95 - Save 30%
by Frank Brady. 435pp. Descriptive Notation. (Dover 1973). The most famous biographical work on the American world champion. Bobby's career in chess, from his beginning as a child prodigy through his winning the world title is described in the first 268 pages. This is followed by almost another 170 pages containing 90 annotated games (in descriptive notation). Considered by most to be the definitive biographical work on Fischer.

Bobby Fischer Complete Games - Hays

Price:£7.50
This book covers every game in Fischer's career, with light annotations by John Hall, Senior Master. It contains cross tables of every tournament, indexes Fischer's openings, and even notes 100 of Fischer's most memorable games. This is THE Bobby Fischer book.

Bobby Fischer from Genius to Legend - Gufeld et al

Price:£15.95
To many, Bobby Fischer is the name of chess. Remembered for his epic match in 1972 with Soviet World Champion Boris Spassky at a time where the Cold War was at it's height, the American has always been for many chess' great enigma. In this book from Gufeld, who was assisted by the likes of GM Wolfgang Unzicker, the games, traits, and personality of Fischer are examined, with some interesting conclusions. Its lucid reading style makes this an enjoyable way to acquaint yourself with one of the all time greats.

Bobby Fischer Goes to War (HB) - Edmonds

Price:£14.99
Bobby Fischer Goes To War is, as the British Grandmaster Nigel Short has put it, an outstanding piece of investigative journalism. Rather than focus on the chess, it examines the colourful human drama away from the board. In the past it has traditionally been presented as a Cold War battle - the individualistic American genius versus the product of the Soviet machine. In fact, as the authors show, with fascinating new documentary evidence, it was far more nuanced than that. Indeed, both the volatile and eccentric American and the free-spirited Russian were considerable irritants to their respective nations. You don't need to know anything about the game to enjoy this gripping account of this most notorious of all chess matches.

Bobby Fischer Rediscovered - Soltis

Price:£15.99
Although 30 years have passed since Bobby Fischer single-handedly wrested the world chess title from the former Soviet Union, admiration for his beautiful play remains as strong as ever. As copies of My 60 Memorable Games by Fischer are elusive and only covers material up to 1967, the author has provided a timely volume that retraces Bobby's chess career from his teenage years in New York right up to his final matches with Boris Spassky, taking a fresh look at the chessboard masterpieces that have made him a living chess legend.

Bobby Fischer: The Wandering King - Bohm & Jongkind

Price:£5.00
Despite his idiosyncrasies, Fischer has become an intriguing living legend. This book traces his story through interviews with former friends and rivals of Fischer, including Seirawan and Karpov, and his former bodyguard and fitness trainer. The authors have dug through the archives, including recently opened FBI files, in order to place the more negative aspects of the man into context - his tough upbringing, his exceptional talent, his anti-social behaviour, his fight against the chess authorities and his growing eccentricity. This book is a must for anyone interested in this remarkable man and his fascinating life. Hans Böhm and Kees Jongking are Dutch media professionals and chess players whose acclaimed 2003 TV documentary Bobby Fischer: The Wandering King, forms the basis of the interviews in this book. 160 pages, published by Batsford

Fischer World Champion! - Timman

Price:£14.95
In 1972 a boy from Brooklyn broke the hegemony of Soviet chess. Bobby Fischer, the greatest genius the game had ever seen, completed his crusade against the 'commie cheaters' by defeating Boris Spassky in Reykjavik. The match brought chess into the households of thousands, providing a mix of politics, gamesmanship and electrifying chess. The acclaimed classic Fischer - World Champion! conveys the full drama of the clash, both on and off the board. It also includes the original analyses of the games by Jan Timman, one of the world's finest analysts.

How to Beat Bobby Fischer - Mednis

Price:£6.99
Even chess legend Bobby Fischer occasionally lost matches, and his rare defeats offer valuable lessons for ordinary players. This intriguing collection, compiled by a noted chess master, features comprehensive text-and-diagram analyses of 61 of Fischer's losing games. Highlights include "the losing moment," the move at which each game was beyond saving.

Russians versus Fischer - Plisetsky & Voronkov

Price:£25.00
This magnificent volume contains the extraordinary story of the prolonged battle between Bobby Fischer, the lone American genius who is perhaps the most famous chess player of all time, and the long-standing and all-dominating Soviet chess machine. For the first time readers will be able to view virtually all the secret documents on 'the Fischer problem', many of which have never previously been published. These include papers from the archives of the KGB, the Communist Party Central Committee, the USSR Sports Committee and the Chess Federation. Together with this, there are reports and analysis of Fischer's personality and play, written at the demand of the Soviet authorities by the country's leading Grandmasters, legends such as Mikhail Tal, Tigran Petrosian, Vassily Smyslov, Paul Keres, Victor Korchnoi and Efim Geller. Also contained in Russians Versus Fischer are annotations and the stories on all of the 158 chess encounters between Fischer and his Soviet adversaries, and a large number of rare photographs and drawings. This book is a significantly enlarged and updated version of the one first published in Russia in 1994.

Unknown Bobby Fischer - Donaldson

Price:£13.99
This book isn't only about Fischer. It contains many stories about Fischer and other players. It contains many games of Fischer, but also games between other players. It contains pictures of Fischer and other players too. What I especially loved about this book was the stories, about Fischer and other players. It contains many games from Fischer's 64 simul tour of the US, and quite a few stories from these simuls. It contains articles and other things. " A Bookstore in Argentina " was quite intriguing, but as were other stories. It also contains letters from Fischer to Larry Evans in the 70s. It is, all in all, a great book about chess. It isn't a teaching book, but many stories about players in the 50s,60s and 70s. Combined with interviews, pictures and other stuff. Many games are included, and in a sense I do believe we can all learn something from these games. This book is a true treasure.

Legend on the Road - Donaldson

Price:£12.95
In 1964 Bobby Fisher wasn't a complete unknown, not with six U.S. Championships to his credit -- including a scintillating 11-0 in the 1963/64 affair -- but U.S. chess players had never had a real opportunity to see him in action up close. During his 1964 exhibition tour, he barnstormed the U.S. and Canada from coast to coast, and his entertaining lectures, high level of play and personable manner won him many new admirers. This is a comprehensive look at the tour with newspaper reports, magazine articles, personal reminiscences and lots of games, many of which have never been published before. This second edition features new material including a recently rediscovered exhibition in Indianapolis, first-hand accounts from San Francisco, Little Rock and Pittsburgh, several games, plus photos and artefacts as well as corrections. It's is a treasure trove for every Fischer fan.