Chess Shopping
Chess Books
Beginners | Instructional | Openings | Games Collections
Chess DVDs for Computer
Openings | Instructional
Chess DVDs for Television
Beginners | Openings | Instructional | Games Collections
Other
Chess Sets and Clocks | Computer Chess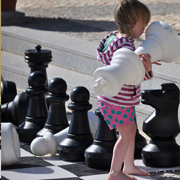 Big Game Hunters Giant Chess Sets: www.gardengames.co.uk
There is a range of giant chess sets, mats and chess pieces sold by Big Game Hunters who are experts in garden games. Giant chess sets are a great way to improve your children's chess skills or get them interested in chess as the big pieces are easier for them to hold and make the game more interesting to play. These giant chess sets can be used indoors too when the weather is bad so you can play giant chess all day long.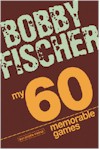 My 60 Memorable Games - Bobby Fischer
£12.99
My 60 Memorable Games was written over a period of several years and contains Fischer's objective, honest and self-critical annotations to games that he had won, drawn and even lost from 1957 to 1967 - but from which he had also learned valuable lessons. In fact, reading Fischer's intensely personal commentaries is like going back in time, watching live coverage of his over-the-board battles with the chess greats of his day. Soon he would become the greatest of them all.

Chessbase 10
ChessBase 10 - STARTER Package
£100.00
RRP £124.99 - OFFER PRICE £100 ChessBase is a personal, stand-alone chess database that has become the standard throughout the world. Everyone uses ChessBase, from the World Champion to the amateur next door. It is the program of choice for anyone who loves the game and wants to know more about it. Buy from:
"Are you tired of constantly following the same old opening moves? Fed up with always having to keep up with modern chess theory? Or perhaps you simply wish to try something new and exciting, but cannot decide between the numerous choices available? We have the answer!"
" Dangerous Weapons is a brand-new series of opening books which supply the reader with an abundance of hard-hitting ideas to revitalize his or her opening repertoire. Many of the carefully chosen weapons are innovative, visually shocking, incredibly tricky, or have been unfairly discarded; they are guaranteed to throw even your most experienced opponent off balance."
Wow! I decided to check the truth of the above claims by buying and critically reading the book on the Open Games, Dangerous Weapons 1 e4 e5 . Are the bold claims of the series justified? Read Review