Homepage
We are London's most exciting and friendly, central pub-based chess club. We welcome players of all strengths and nationalities from woodpusher to GM, whether for a night or a season. Why not send us your details here, and we'll get straight back to you.

Photo by M Huba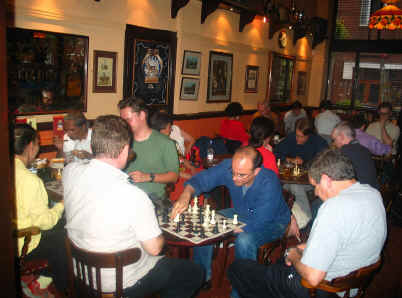 Our new venue is
The Carpenters Arms 12 Seymour Place W1H 2DD
This new venue is for Middlesex League home matches only – people are welcome to come along and spectate but downstairs the pub is generally quite busy so there is no real scope for social chess
The main benefit of joining the club is participation in league and tournament games.
Photo by M Huba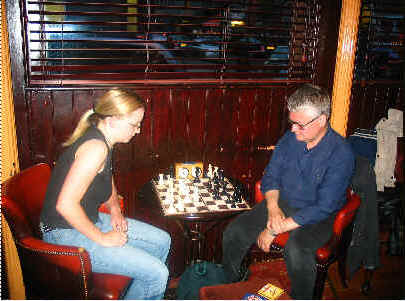 Home matches are played from 6.45pm or 7.00pm on Mondays and Wednesdays upstairs at The Exmouth Arms pub, 1 Starcross Street, London NW1 2HR (tel. 0171 387 5440) - off Cobourg Street, a few minutes walk from Euston, Euston Square and Warren Street tube stations.
We have several teams in different league divisions, and usually book Monday and Wednesday evenings in the league season, which runs from September to May. Spectators are welcome.This season we have teams in divisions 1,2,4, and 5 of the London League and divisions 1, 2, and 3 (promoted from 4 last season) of the Middlesex League. We have entered a second team in the single division Hammersmith League to provide more games for our weaker members. We shall be entering one team in the Major (U175), Intermediate (U150) and Minor (U125) sections of the BCF National Club knock-out competition. In addition to this, we have a team in the second division of the 4 Nations Chess League and we play international friendly matches 4 or 5 times as year.
The games are in the upstairs room of the pub, which provides sufficient peace and quiet.Subscriptions are 45 (pounds sterling) this year, which will get you regular match play, a club card to use at the Wargrave Arms and the social side of the club too. We're one of the friendliest clubs in London: however if you don't like the "pub atmosphere," another club might be better (there are at least 30 clubs in London).

Join us: Annual subscriptions run from September. £35, discounted if you join after December. Email khcc@khcc.org.ukStar Tavern: There are a small number of us who regularily meet at the excellent Star Tavern Belgrave Mews West on a Saturday Night at about 9.00 pm. Clicking the Link will take you to streetmap.co.uk and show a map of the area. General info from our contact page
Top of page